reviews + testimonials
Hear what others are saying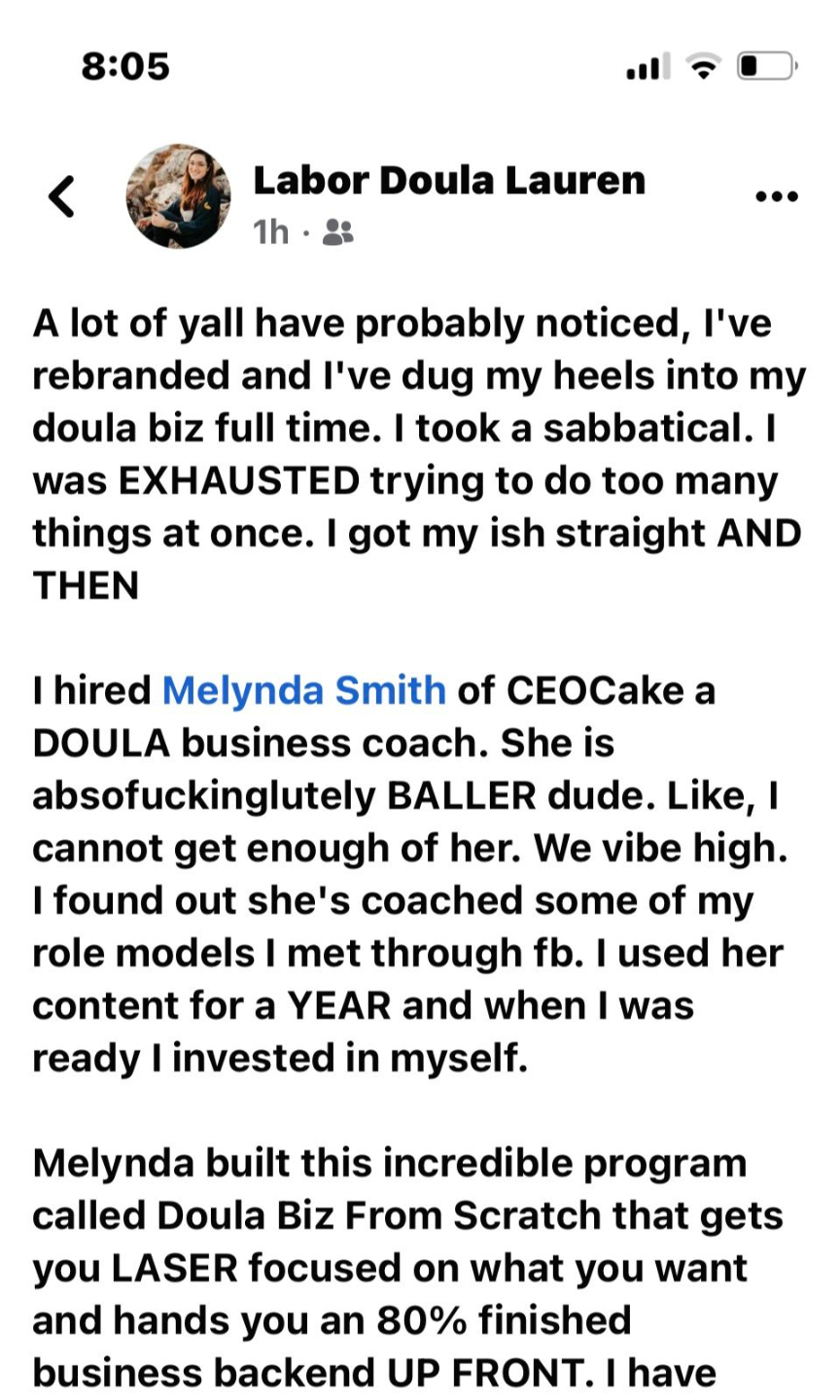 Isha Lambkin
During the course of this program I was able to more than triple my income, connect with my inner self and figure out my true calling. I have grown and learned so much! When I signed up for Doula Biz From Scratch I had been out of work for months and I was near the last of my savings, and I was afraid, but deep inside I knew that this would be the best investment I could make. In the second month of the program, I earned more money than I have ever made in my entire life! I made $10,000 in July alone! My mind is still blown!
Ivania Montero
Melynda's coaching style and program was exactly what I needed to get my business to where I've been wanting since becoming a Birth Keeper years ago. Her mentorship taught me how to dig deep within myself and I finally feel aligned with my offerings and feel the connections with those I support. I am no longer afraid to share with my clients the deep connection I have with my ancestors. My offerings are now a reflection of this and I am able to show up for my clients in a powerful way. Melynda is a genius and she will help you transform your business exactly the way you've always wanted.
Bethany Erby
THIS IS THE BEST INVESTMENT YOU CAN MAKE! Sitting with the expert, gaining clarity, getting real-time feedback, and walking away with a clear plan of action is worth its weight in gold!
Tiffany Goedeken
The first module surrounding mental limits and abundance mindset was incredible. I love the concept of approaching this business from a soul space…. Melynda is the go-to for stepping into your power as a birth professional!
Kilah Lawson
If you're a birth worker looking to scale and grow your busines s, you should have hired Melynda Smith like, yesterday. Within weeks of working with her I sold my first high ticket package. She knows her stuff, her advice is A1 and her resources are practical. Doula Biz From Scratch helped me to learn how to stand apart in my field and gave me the confidence and resources that I needed to build my brand and grow my business! The resources given were practical in helping me grow my business--specifically building my website, determining my ideal client, and marketing to my ideal client. The content also helped me to get clear on the services I need to provide to my clients and how to price them. The work to price packages really helped me to be intentional about setting my financial goals!
Kemeera Nimahat
I'm truly grateful for Melynda. When I say she knows her shit I MEAN IT! I love the fact that she's a former birth worker; the insights she provides are spot on and applicable. If you need systems, she's your girl. If you need to be pushed to think big and help you set tangible steps to reach your goal, she's your girl. She's hilarious, committed, and provides soooooo much value. After rolling out the new packages and revamping my approach to consults, I was surprised to see how many people didn't even flinch at the investment of the new packages. I was pushed and encouraged to really think about my unique selling proposition, core identity, who I want to serve & more. It was refreshing to be able to stand out and celebrate what makes Our Mother's Light different from everyone else. I launched 3 new packages during the program! They're much more robust and tap into my West African knowledge as well as my dance background!
Dr. Sierra Bizzell
Confidence! I just quoted two people at $3,000 for my lowest package. I would never have done that before working with you. Thank you for teaching me to charge based on the amount of work that I'm doing and not being afraid because there are people who are willing to pay it.
Natasha Wright
Melynda, you have crafted a heartfelt, comprehensive, and truly activating program for any person to use to launch and sustain their desired lifestyle with the appropriate systems. I love the energy you bring to the course. You are a gem and I am so excited to take off and soar. I love the way you compassionately supported me through this course. To any doula or service pro, this course program is a solid fit! Melynda nails her assignment as teacher, guide, and mentor. You will leave this course a lot happier, a lot more prepared, and a lot more paid!! August was my highest-grossing month since I became a business owner.
Nichelle Craig
I loved the Doula Biz From Scratch program. I learned so much and built structures into my business that makes life easier. I sold my first high-ticket doula package and two mid-ticket packages. I created a system for receiving payments! I learned that being you is the REAL marketing strategy. I am consistently attracting my business desires since this course!
Kim Mar
I made a whole webinar ahhhh! Never thought I could've done it. I'm super proud! I also revamped my ENTIRE WEBSITE! It's so "me" now! Get your whole business life right with Melynda! I'm particularly so glad I was able to hunker down on all the back-end admin side of my business. There's a whole world to entrepreneurship that I never even knew I needed before this!
Jill Stewardson
Melynda's program was a game-changer for me! I came into the program thinking my life was going in one direction.... that I wanted my business to be one thing. As I went through the program, I realized that it really wasn't what fit my life or fit ME! I was supported along the way as I soul-searched and totally changed my path. It was great to have people believe in me and help me to adapt my business to better suit my life. I am so grateful for all the knowledge, advice, and support that this program and Melynda gave me! I hope to reevaluate my business, get it running successfully and take Melynda's program again in the future to further my business even more. If you were thinking about this program and if it would work for you... just do it! You won't regret it!
Akilah Grant
This course is just what I was looking for! It goes into detail from how to start your business legally, all the way up to scaling and growing it. My business has greatly improved by using the strategies that I learned through DBFS.
Aisha Jones
The first day of meeting with Melynda started my transformational business journey. My passion for supporting families was being weighed down by my lack of business sense, marketing and branding. Melynda immediately came in and taught me how to stop working harder and work smarter, so I could spend more time doing what I loved and that's working with mothers! She helped me bring my business alive digitally so that I could be seen by my community as a reliable, professional and relatable resource. Through our meetings I resolved my relationship with money and learned my true value. I would recommend DOULA BIZ FROM SCRATCH to any doula that wants to create structure in their business, see more revenue and reach higher levels!
Destiniy Bullis
Melynda helped me realize what my weaknesses were within my business and has set me on the right path to help my business succeed. I'm SO thankful for all her wisdom and knowledge. After just ONE meeting with Melynda I took her advice and increased my pricing. I utilized the tools she gave me during our consultation and confidently gave the price for my services and booked the first client after our meeting. I am so happy I decided to join the Doula Biz From Scratch program. She has been absolutely phenomenal.
Jenni Kula
I first connected with Melynda through social media. I felt like she was talking straight to my heart, and I feel like she really understood the challenges of birth work. Her past experience as a birth professional imbues her work with a ton of clarity, understanding, and vision. I decided to sign up for her program because I felt like she really believed in my ability to be successful. She was able to push me into working in my zone of genius and right for clarity in my business goals. She had an amazing ability to understand where I was at in my career, and what it would take to help me find success. Melynda has an amazing ability to take complex business ideas and break them into small digestible parts to help you create all the layers of your business. She not only has provided expert level guidance, but also follows up and stays with you as you manifest the next level of your strategy. I feel that Melynda truly wants me to be successful and make major contributions to the birthing world. Her support throughout the program has been unwavering and she is always available to hold my hand through any challenges I have faced. She has been totally dedicated to supporting me as I bring the next layer of my business into being. Birthing a business is like birthing your baby, and you need someone with sage level wisdom and compassion who knows what it truly takes to be successful. Melynda's support as my "business" doula has been transformational in my career as a birth worker. I'm totally able to see how I can serve families from a place of abundance and radiance.
Betsy Schwartz
I am fired up! When I joined Melynda's group, my inner flame lit up. It's not quitting time yet for this crone. The best part is that Melynda truly listens. She knows exactly how to say things, and she gets where I'm coming from even if I'm not certain. Melynda is encouraging, inspiring, authentic. Now all the things I've been learning about marketing, funnels, and sales make sense because working with another doula who's actually been there creates a synergy. I realize that I have a lot of really cool, amazing things to offer; now I just have to package it better and use the right language to get my message across. Melynda is a soulful, smart woman; she isn't just telling you how to do stuff, but actually walking you through it and holding your hand step by step. She genuinely cares about me getting it done, and creating value in my life and in the lives of others.